October's updates (from Veliko Tarnovo to Thessaloniki and Israel)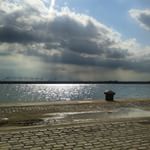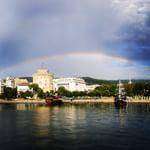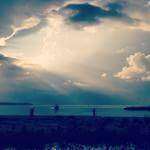 Hello fellow nomads,
Long time no speak, I hope you are all well, and that are currently either on the road, or planning on getting on the road soon. If you are not, what's holding you from moving soon?
One of the most fascinating topics for me are attachments. The things that hold us back from moving. Some of them are great and have to do with Love for something or someone. However, some of the attachment are kind of not worth it. Every now and then, we have to map our attachments and find out which ones are simply doing more damage than good.
I am sending you my regards from sunny (still) Israel. After being on the road for 5 months, it was time to get home for a month, and from my experience, the most relaxed timing to do so is just after a war ends. What's next? Probably Dublin, and then South America.
Since I haven't written for a while, I will recommend two cities that I think you should consider next time you travel.
1) Varna, Bulgaria– Located on the coast of the black sea. I love the sea, and although I try to avoid touristic locations during July and August, Varna was still affordable and fun, especially when you camp with a tent for 6 Euros a night… It is a fun city, and if you stay longer, you can get away from the center, and stay at a close village by the sea, simply awesome.
2) Thessaloniki, Greece– Love this city, although it is not as affordable as Varna, it has amazing beaches close by and trendy places to drink and eat. Special thanks to my good friend Yolanda that let me crash in her office and make it my home for more than a week, you are awesome! If you go to Thessaloniki, check out Yolanda's blog LoveThessaloniki for the coolest places and attractions around town.
Blog News
As you might have noticed, I almost didn't add new articles in the last few months. This is now changing and I am full with creative energy that is connected to my goal of making a lot of money from the blog soon. I still have no idea how to make it happen, but I already know it will involve amazing products for limited time ("available only now and until next year!"), and credit card details requests. As always, when it happens, you will be the first ones to know (just kidding, take it easy).
The blog does connect me to new fun people. Few months ago, after I sent the newsletter from Sofia, I was contacted by Geri, a travel blogger from Bulgaria and went to have coffee with her which was great. First of all, Geri, thanks for buying me the coffee! Geri has a blog specifically about women traveling, which is a topic I honestly don't have that much knowledge about (Specifically women traveling, and generally women). Seriously, I do feel that traveling as a woman is a bigger challenge than traveling as a man. Geri's blog is supplying tips and insights that help prepare women for an experience they should not avoid with all the challenges it might present, and I recommend you to check it out at whenwomantravel.
New posts: I have published an article that for me is the most important article I have ever written. The reason of why it is important is not due to the value it presents to the reader (you will get sleepy after the first paragraph), but simply because the article describes my nomadic lifestyle in detail with a set of rules that help me stay sane and happy on the road. I keep on coming back to it, checking that I am living the life I want and follow the path that makes me happy.
Feel free to check the article here, and share your own special rules and way of traveling in the comments section.
Since I am in a paranoia state of mind, I have published two other articles that you might find interesting. The first is about avoiding getting overcharged as a tourist which is sadly a common phenomenon. The other is about ways to keep your passport safe.
Let's end with the Quote of the month:  The more you have, the more you have to lose.
What do you have to lose?
Happy travels!
Related Posts