Freezing and drinking Guinness in Galway, Ireland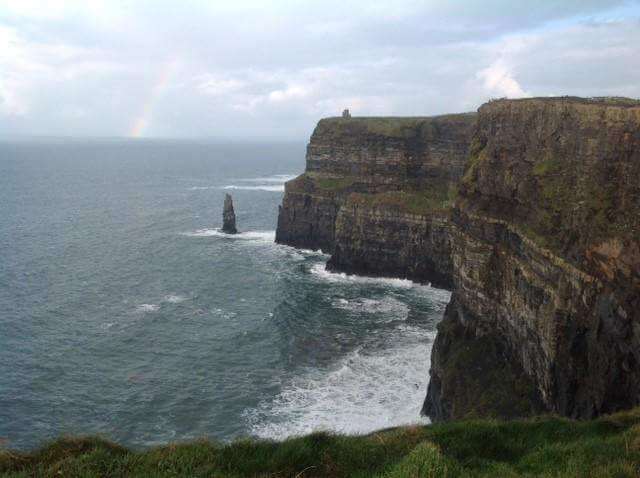 Hello fellow nomads,
I am sending you all my regards from cold Galway in the west of Ireland. I encourage you to add Ireland to your travel bucket list, it is a beautiful country with friendly people.
Although the best months to travel to Ireland are from May to August, being here in Winter has some advantages. Firstly, prices of accommodation are going down in the "low season" and it also feels less touristic. Nomads are probably better off interacting more with the local community than hanging out with tourists, for reasons explained in the this article.
Ireland is an island, and Galway is positioned at the Atlantic coast. The air is fresh, and you can really breathe the ocean. That is Ireland, and while you are here in winter, hot whiskey will save you at nights while making you an alcoholic at the same time.
Christmas is a tough period for Nomads. I will start with a short disclaimer, I am Jewish so we don't celebrate Christmas. When I tell my family about Christmas, I don't even get a "Wish you were here" reply. At best case I get "Buy a new jacket, it must be cold".
Christmas seems to be all about family/friends which is exactly why it is a non-nomadic holiday. Nomads usually don't have their family traveling with them, and are away from their best friends since they are constantly traveling. Society pushes us into this cozy place of Christmas perfection, and the most dreaded occurrence that can happen to you in Christmas is being alone. I honestly think most people would rather be crushed by a bus while spending time with their family, than being alone on Christmas. Christmas is great if your attachments (friends, family etc.) are making you happy. But then again, if they aren't, you should only keep them if you are terrified of spending Christmas alone, traveling to a new country, or starting the business of your dreams.
Other than Christmas, New Year's is here as well…
A personal question for you. What is your annual day of repentance and reflection about life?
No really, you should have one.
Mine is actually a Jewish holiday, which I use to reflect on my life and make sure everything is in place. If you don't have a date, New Year's is actually a good option. Before the parties, gatherings and best wishes, how about taking a few minutes alone (Don't do it on Christmas), and write a few sentences about the year you had. Then, write a few sentences on things you want to achieve next year, your dreams. Even if you throw this paper one second after writing it, you will be surprised of how much it will improve your perception about your current status, and your chances of success of getting to your destination. Think of two people, one is super smart, just like you. The other is a complete fool that keeps on taking bad decisions. The smart person (you) doesn't know that their happiness is in Rio de Janeiro Brazil (Just a metaphor, you can replace Rio with having a family or starting a business), while the fool knows that getting to Rio will make them happy. Who is more likely to get to Rio in the end? Setting a goal and knowing what you want is critical, but it involves an internal dialogue that most of us avoid.
Let's get back to our nomadic topic. A new year's resolution can also be to start experimenting with the nomadic lifestyle soon. Plunging into this lifestyle without preparation is just like going scuba diving without taking an oxygen tank. One form of Oxygen in this world is Money. Most of the other necessities you can pick on the road, but sustaining yourself while traveling is a tough one. 4 years ago, when my nomadic lifestyle began, I started developing my own business that has since grown and sustains me on the road, while also making revenue by freelancing. The site that was a lifesaver for me is Elance.  Elance the biggest freelancing platform in the world, and it basically funded my travels in the first few years, while also helping me to improve my skills working for others and learning from them. I now mostly hire the people I work with on Elance, there is so many talented people out there that can either help you build your dreams or employ you. Sign up, create an amazing profile and start to slowly apply for jobs. If you get it right, the option of being a nomad becomes much more realistic and easy.
What's the next destination for me? Next month I will spend a few days in Zurich, where I will participate in the lifestyle design convention. And then, I will probably head to South America. I have written only one blog post since the latest newsletter about the boring yet important topic of "How to avoid problems when crossing international borders". Borders are always funny places for some, and sad for others.
If you have any comments, questions or you are around where I am currently at, let me know by replying to this email. I love hearing from you.
Happy travels!
Eli and the Becomenomad team
Related Posts