BecomeNomad from Kiev, the capital of Ukraine
Today, BecomeNomad from Kiev, the capital of Ukraine. Although I am not a usually a fan of big cities, I am glad to have found some routines and places which make me feel comfortable to stay here for a while. I tried staying in Chernivsti, a cute town close to the Carpathians mountains, but it was impossible for me to get work done without a coworking space. The option of revisiting the Beautiful city of Odessa on the black sea, after staying there for 2 months last year doesn't seem too nomadic neither, especially considering the number of tourists who are there in August, making it more crowded and expensive than usual. Odessa has become the top summer resort in the region after the Crimea peninsula was recently annexed by Russia, which makes travel there a little bit difficult. I have heard great things about Crimea, which was the Soviet Union official hip place to visit during the summer, so I look forward to visit it in the future. In the meanwhile, I enjoy staying in my wooden guest house 10 meters from the Dnieper river and doing some River swims in the mornings.
The Ukraine is an interesting country. When I got here for the first time almost a year ago and crossed the border from Poland to Lviv, it felt like I have reached another world. It was no longer the "organized Europe" that I have got used to, not many people spoke English which made it hard to get by, and everything looked extremely cheap. One of the interesting phenomenons of the nomadic lifestyle is the feeling of "Shock and Awe" when I reach a new place, and how it quickly changes to a feeling of "It's normal and I feel at home". For example, Minsk, the relatively isolated capital of Belarus where I have stayed for two months before going to Kiev seemed like the strangest place upon arrival. Lenin Statues in every corner, a lot of security in the streets and a political structure unheard of in modern European democracy mindset. However, after one month, the Lenin statues merely became my favorite meeting place with new friends, and now every place without Lenin seems a little strange and exotic to me. It is a little bit counter intuitive, but when this feeling of "I am at Home" appears, that's exactly how I know it is the right time to leave.
So I moved to Kiev. My first week in here was a little tough. I found a cheap hotel for $9 a day with a nice cozy room, located in the middle of a noisy and crowded district. To give the city another shot, I just entered the "Map View" of a few accommodation sites, saw a wooden house in the middle of nowhere 10 meters from a beach by the river bank, and now I have a Home. Conclusion: Even in the messiest locations, magic awaits and hides. you just need some luck, spend some time to find it, and most importantly, understand what is it that you need. In my case, I need a lot of nature around me in addition to an accessible coworking space that I can reach every day.
Embarking on a nomadic life without knowing what you need and makes you happy can break you to pieces. It might also do the same with time even if you live a normal lifestyle. Once you understand what makes you happy, life is easier, and prizes are waiting for you. Here is how the Dnieper River looks like close to my home: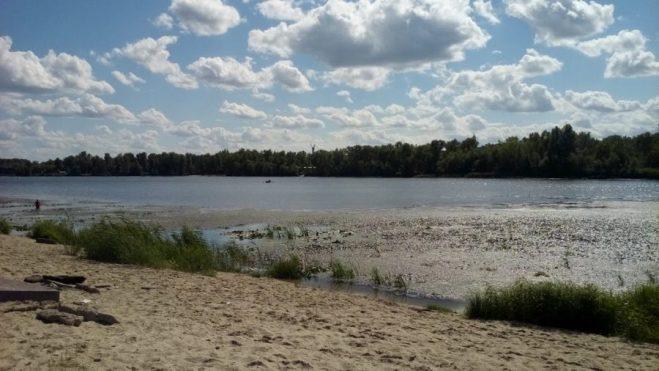 The Ukraine has amazing value for money currently after their currency got devaluated more than 3 times against the Dollar in the last two years. Good quality Espresso in the professional coffee wagon in the street is about $25 cents, a great lunch will be about $3-$5, and a budget single room in most cases will be from $9-$12, while a dorm bed will be $4. In other words, CRAZY.
The other side of the coin is the struggle of the local population to get by through the month. Purchasing imported goods and traveling became almost impossible for locals and I hope the situation here will get better with people living in dignity, and social tensions between parts of the population reducing. The World has too much of Nationalism and too little of love as it is.
Speaking about Love, here are two last things I would LOVE you to help me with.
If you are planning to start your site, you will need a Hosting service, that's a fact of life. Purchasing the following BlueHost Discounted hosting deal will greatly help my blog as it is an affiliated link. Bluehost are proving a good and stable service, and they actually pick up the phone (I tried) late at night when there is an emergency. If you do purchase via the link, I would love it if you can reply and tell me about your future plans for a website. I will do my best to help.
My other request is your help in the translation of the BecomeNomad Blog! We already have a Spanish section of articles, so if you love writing and know Spanish, all you have to do is to pick one of the articles you like, translate them to Spanish and send them to me. I will give you credit for the translation and link to your project in the end of the article. Not speaking Spanish and still want to help? Awesome! Our Star Blog article of General explanation about the Nomadic Lifestyle is waiting for you to translate it to any language you would like. It would be great if you can help out so we can introduce this lifestyle to people from your region as well in their local language.
If you have any comments, questions or you are around where I am currently at, let me know by replying to this email, or tweet me @BecomeNomad, it's always great connecting with readers!
Related Posts