Location-Independent Entrepreneurs: Life as a Digital Nomad with Johnny FD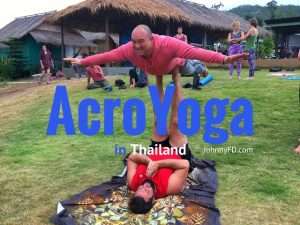 In the latest episode of the BecomeNomad Podcast, I speak with Johnny FD from "Travel Like a Boss," a long-running podcast about the lifestyle of a digital nomad. Johnny started his nomadic journey as a scuba-diving instructor, then a professional Muay Thai (Thai kickboxing) fighter.  Johnny now runs a number of successful online businesses.  He shares with us some insider tips about how to be successful as a 'location-independent entrepreneur.'
Listen to the podcast to hear Johnny talk about characteristics every successful digital nomad must have and find out why Johnny thinks we'll soon meet the world's first digital-nomadic millionaire.
Highlights from this Episode:
Anchors
Every digital nomad has different "anchors," or, things that maintain a form of stability in an otherwise unstable lifestyle.  One way to create anchors is to explore hobbies that seem totally foreign: Scuba diving? Muay Thai?!  Johnny believes that everyone has undiscovered hobbies and explains that the nomadic lifestyle can be a path to discovering them.  Hobbies can motivate nomads to travel, help us meet people, and give us a reason to choose one location over another.
Love What You Do
One of the most beautiful things about nomadism is the freedom it provides.  Nomads are free to follow hobbies when we find them, pursue adventure when it arises, and, perhaps most importantly, it gives us the freedom to craft our dream job.  Opportunity is out there and as a nomad, you have the potential to try the wildest opportunities you can imagine.   If a lifestyle works for you, keep it.  If not, move somewhere new and try again. Repeat.
The Best Thing About Digital Nomadism
One thing that many nomads aspire to is passive income.  Johnny's favorite thing about his omadic lifestyle is that it gives him the freedom to alternate between long, hard work days during the business-creation phase and short, maintenance-focused hours once a project is online.  Since most nomads are self-employed or work on contract, we have the option to make our own rules for how we work.  Work better in the early morning? Late at night?  You just have to build your lifestyle around those choices.  If you're willing to work for it, passive income can be a phenomenal way to generate free time so you can sustain your other hobbies.
Accountability
It is currently trendy for digital nomads and other successful entrepreneurs to publish their monthly earnings.  Johnny likes to think of sharing this (formerly) personal information with tens of thousands of people as motivation.  By posting exactly how much income he gets and from where, Johnny ensures that he is accountable to his audience.  If a project is unsuccessful, he risks the embarrassment of sharing this failure with a crowd.  For some, this push might be enough to urge you to put in the extra hours to make a long-shot succeed.
Social Media
Most digital nomads today have a blog or a podcast or both.  Social media plays a big part in the lives of non-nomads as well, but for nomads it has two special functions.  First (1), as a cure for loneliness; personal updates can serve as a link to people all over the world, especially friends and family in the places we've called home.  And second (2), as a way to work up to building online businesses.  Johnny began blogging as a way to learn about content creation and monetizing his travels.
The Characteristics of a Nomad
Nomads are many, many things, but there are some overarching characteristics that most nomads share.  The most successful nomads are people who have an idea and just dive right on in.  Maybe it's courage, maybe it's hubris, but whatever it is, it works.  Successful nomads are also networkers, even if they aren't always social butterflies.  They attend local Meetups, work in coworking spaces (rather than alone), and are always ready to talk business.
What Defines a Nomad?
As always, I ask my guest to define what makes someone a "digital nomad." Johnny says, "A nomad is someone who has an option to not go back home."  In short, a nomad is someone without responsibilities that tie them to a specific place.  There is not a time-limit on a nomad's journey, nor is there a life waiting somewhere to which we intend to return.  We carry life with us.
Nomad Communities
Living in Chiang Mai, Johnny revels in the large community that makes this city the global capital of digital nomadism. Its important to think strategically about where to make your short-term home.  Chiang Mai makes a great stop for burgeoning nomads or those looking to network — there is even a Nomad Coffee Club!  But these nomad hubs can get too comfortable and may limit the drive to explore.  Know of any up-and-coming nomad communities?  Let me know about them!
The Future of Nomadism
Thinking about becoming nomadic?  Well, Johnny tells us that the time is now.  Nomadism is growing and Johnny believes that this is just the beginning.  People are starting to realize that this lifestyle is not just a fad, but that it is quickly becoming a sustainable and potentially lucrative endeavor.  With exponential growth, Johnny predicts that we are on the verge of entering an era of digital nomad millionaires.  Will you be the first?
Related Posts