BecomeNomad's Newsletter from Krakow, Poland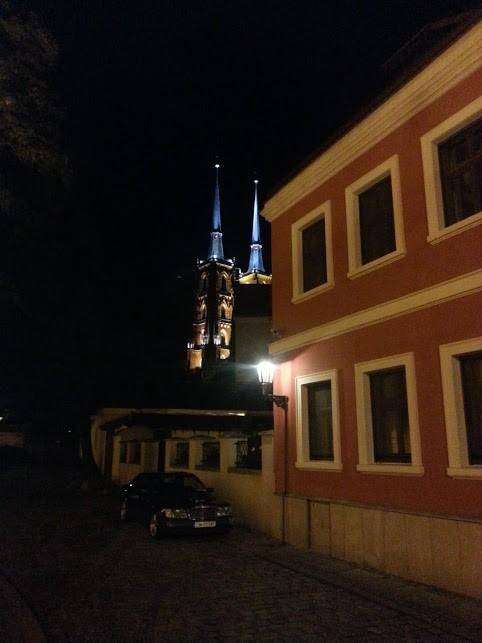 Hello fellow nomads,
This month's BecomeNomad newsletter is from Krakow Poland, but before I get to that, let me tell you about our first ever webinar this week.
We will meet on "google hangouts" call on Thursday on 6 PM UK time, to discuss the topic of "My digital nomad case study". We will basically discuss how my nomadic life actually looks like and what are the rules I keep while being on the road. Feel free to subscribe to the Webinar here, and I will send those who subscribed a link to join the meeting 15 minutes before it starts.
So, back to Krakow. I arrived to this pretty town almost two weeks ago, and I am really enjoying it. As always, I am doing some weekend trips to other cities such as Wroclaw which is even more beautiful than Krakow, even though my phone can't take photos at night time. I plan to stay in Poland for a month until my Schengen tourist visa runs out and then escape out of Europe.
One of the main reasons to why Krakow is so touristic is actually due to a small town nearby called Osweicim. I will leave it up to you find out what is special about it, since we want to move on to more cheerful topics.
After Krakow, I should probably head to L'viv in the Ukraine and then go south to Moldova. If someone is around, feel free to reach out, and buy me dinner.
In Krakow, I booked a room that is actually a student dorm. Renting university dorm rooms for tourists is trending recently, and I have also done the same in Thessaloniki, Greece. We all know that accommodation becomes more expensive in August due to the tourist high season, but at the same time, student dorms around the world are taking advantage of students checking out for holidays and rent the rooms for tourists. My room has chairs, tables, 3 beds, and anything else a student needs to be successful.
I was hoping this setting will increase my productivity, but sadly it is only stressing me out and I hardly spend time in the room. I find that taking long walks in parks and random streets is much better. I have many rules in life, and one of them is "Whatever you do, walk one hour a day".
Walking doesn't only allow me to know the place I am staying in better, but research also shows that it increases work productivity, since it makes you exercise and breath some fresh air. When I actually try doing some work, I will report back and let you know if the research is true.
On personal development, I am glad to say that I have a new rule: "No screens at home". The idea is that once I am at home, which is either when I wake up, or when I arrive home at night, I can't turn on any screen. Since I started it five days ago, crazy things started to happen. I start taking showers at night since I have nothing else to do, and I have also discovered a new screen less gadget in the form of Words printed (with ink) on recycled paper, called "Book". I am still trying to figure out how it is connected to FaceBook, and the only similarity I have found so far is that whenever I am reading a book, or use facebook, I feel lonely. In any case, the No Screens experiment is just starting (and I already managed to mess it up this morning), so if I never mention it again, I have probably came to a conclusion that watching random Youtube videos until 3AM is much better.
Speaking of Youtube and its reputation as a total time waste, I discovered that if you look hard enough, you can find some really inspiring teachings and documentaries there. A video I have discovered recently resulted in me becoming mindful and more aware to risks while traveling. Before seeing it, I often forgot to validate my bus tickets, and would gladly "borrow" sugar from coffee shops.  For some reason, I wasn't scared of breaking the law, and going to prison seemed like an ok experience, especially in developed countries. After all, free food and accommodation are every nomad's dream.
This short 4 minutes long lecture has changed my life and made me realize that prison is absolutely a horrible place to spend time in.
Travel Resource of the Month
I think we have talked about this one before. Couchsurfing is a great site where you can host and surf on other people couches while traveling. I mainly use it to meet people for coffee. Recently I have heard of two new applications for meeting new people called "Tinder" and "Ashley Madison", but I still haven't tested those two yet. Do so at your own risk.
That's it for now. If you have any comments, questions or you are around where I am currently at, let me know.
Happy travels!
Eli and the Becomenomad team
Related Posts