14 Years on the Road. Interview with Wandering Earl about the Nomadic Lifestyle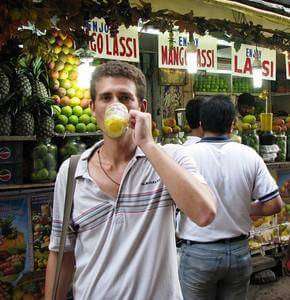 We are honored to have our first Nomad interview with Earl Baron, from the very popular and recommended travel blog WanderingEarl. Earl has been living the life of constant travel for more than 5,000 days, and shares his experiences and insights about the reality of constantly changing locations.
Click on play to listen to the interview:
Here are some highlights Earl shared with us:
Mixing– Nomadic lifestyle is not a only about constant traveling. It combines studying, working, volunteering and doing many other things while constantly changing location. This mix of activities other than just full time traveling is what makes it a sustainable lifestyle.
Move slow– Constant traveling is not necessarily moving around all the time in high frequency. Historically, nomads have stayed in locations for a while (a season or a few months) before changing and spending more time in places helps you keep yourself balanced while traveling.
Variety of ways– No nomadic lifestyle is similar to other. Each person finds her/his own way to make it happen. The nomadic lifestyle keeps on changing for me all the time, you keep on molding it, developing it.
Just try– Don't think too much if you have the nomad spirit or not, just try it. You might "fail", and go home, nothing happened. I personally believe you owe it to yourself to try. (better try than regretting not trying later)
Use the information available– Now is much easier to get information about this lifestyle. 14 years ago, very few people were digital nomads/constant travelers, it didn't even seem like an option.
Understanding and definition– This lifestyle only became "official" when I understood I can fully sustain myself financially while being on the road. It took me 7 years to understand it is indeed possible, and the timing connects to the new possibilities the internet is giving nomads to earn money in the last years.
Stopping– When you find a good attachment (Career, relationship etc.), don't be afraid to stop being nomadic if it makes you happier. Being a constant traveler is not a goal, being happy is.
Contemplation– As a nomad, you have to constantly ask yourself if you are happy, what is important for you, and change things if it is needed.
Have a base– I recommend nomads to find some kind of a base, where you can stay every year for a few months a. It makes you much more effective and relaxed.
Compromise– There are compromises to this lifestyle of constant travel, especially seeing less of your family and friends. But, when you find a good way to sustain yourself, you have the ability to visit them more often than when you start. You should also be aware that it's also sometimes exhausting to constantly change locations.
No 4 hours workweek– People are shocked when I tell them how much time I am putting into work. If you want to sustain this lifestyle, you will probably have to work at least as hard as your friends back home.
Signals you should avoid it– This lifestyle is not for you if you don't like being put in situations that are outside of your comfort zone. Also, if you are not a people person in general, and you don't enjoy the company of people, you will probably not enjoy this lifestyle, as the best experiences are connected to people you meet on the way.
Important skills– You need to be determined and creative as well on the road. Without those skills, this lifestyle might be hard and can't last for long.
Options– If you want a successful and happy constant traveler, make sure you have a way out. Work on projects that will allow you to smoothly exit one day if needed, so you are not locked in it. That way you are making sure that you are always free to stop if you wish.
Making money– As for sustaining yourself, the first rule is: "Get started". Planning and thinking is nice, but you need to make it happen. Move fast, say yes, just do your thing, whatever it is. Once you do get started, more ideas and opportunities will come to you, as you develop your knowledge and skills.
Related Posts