Pros and cons of WeWork compared to local Coworking spaces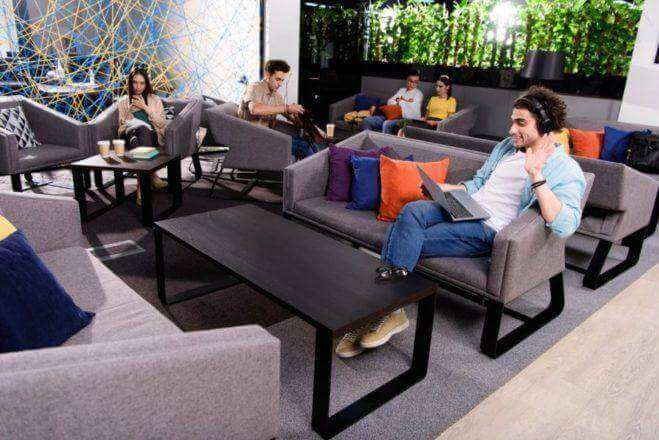 Coworking has become increasing popular and not just startups but even corporates are jumping on the coworking bandwagon. There are several established benefits of coworking like being able to network and socialize with like-minded people, reducing costs and adding flexibility, etc. Now that you have decided to go on this trend of coworking, the big question is whether you should you pick a local coworking space of a global one like WeWork?
Although, it seems like an easy answer that whichever of these places offers better amenities and value for money should be the place of choice, there are a lot of other factors to be considered while deciding a space for your office. Since there are very few massive global coworking chains, in this article we will focus specifically on WeWork. Additionally, we would also like to announce StartupBlink's partnership with WeWork to give you upto 15% discount of the price at any of the WeWork more than 270 global locations, which you can claim here.
Which coworking space is relevant for you?
Before we dive further, it's good to understand which coworking space would be suitable to your characteristics and business goals. Broadly, there is a distinction between members choosing either of the coworking spaces:
Ideal candidates for local coworking spaces: If you are a local freelancer or an independent worker, such spaces might be the right fit for you. These are also great if you are someone who used to work from home but now see the need of separating your work 'from' home. Initially, you and others might have started out in noisy coffee shops but gradually shifted to convenient and work-friendly coworking spaces that are local and not too expensive. If you belong to the category of being a remote employee of a corporation, local coworking spaces fit the bill for you. Additionally, they also work well if you are a "side-giggers", that is someone doing side jobs for less than 15 hours/week. You could be the right candidate for working at a local coworking space if you prefer a relaxed atmosphere and/or are an introvert. Such local coworking spaces allow for a great environment but may not be the best suited for a highly networking intent.
Member profiles of global coworking chains like WeWork: If you are someone who is highly interested in networking, global chains like WeWork are the best for you. You could be cofounder of a global startup looking to meet the right people at WeWork, like business partners, team members and co-founders. You could also be someone wanting to connect with investors or even find potential customers at such spaces. At WeWork, most members aim to grow their business and hence networking ranks high on their priority. Investors also flock to WeWork as they are look out for interesting and investable startups. Spaces like WeWork are more geared for extroverts and people going full speed wanting to make great connections.
Apart from the basic differentiation of coworking spaces according to global chains or local ones, there can be several other types of coworking arrangements. Read more about them here.
Going local? Analysis of local coworking spaces
Local coworking spaces are great! They are present in most cities and many entrepreneurs work out of local spaces globally.
Here are the advantages of local coworking spaces:
Budget friendly- They are usually cheaper as compared to global coworking chains. With prices sometimes 3x times lower than WeWork, local spaces are definitely more affordable. Some of these spaces are totally fuss-free and offer a workplace just to get working, sans the frills like meditation rooms, beers, yoga rooms, and sometimes even events etc. Hence they are able to keep their prices considerably down.
Local knowledge-If you are new to the city (e.g. expat, digital nomad) or an international entrepreneur looking to gain some local flavour and information, such spaces can be great for you. Since they are mostly operated by a small team, and their owners are local entrepreneurs, working from those spaces will allow you to feel like a local and get valuable information of how locals are living in the city. This will also help you connect to local entrepreneurs and freelancers.
Support the city– Selecting a local coworking space can also mean boosting the local economy and supporting local entrepreneurs. When a new coworking space in town booms, that area may start seeing flourishing activity too.
Family oriented- Such spaces are also very cozy with a relaxed atmosphere and don't have a "batch processed" feel to them, unlike global coworking chains that feel similar across locations. There is more bonding and personalized connection between members and the owners and members can easily become part of the community.
Individual and unique– Local coworking spaces are not process oriented, giving more flexibility to the members. You can additionally negotiate on prices, timings, processes etc.
Find your unique tribe- Many local ones may be niche specific like catering to designers, accountants, lawyers, etc. If you belong to a specific niche, it will be a good idea to check local spaces before heading to WeWork. It can be great for networking within your own function.
Your only option– Many cities will only have local coworking spaces and global chains like WeWork may not be present there yet. So they will be your only option.
Some disadvantages of local coworking spaces:
Less networking opportunities- Many members (especially freelancers or corporate remote employees) consider them as only a working space and not necessarily as a place to meet other potential partners or business connections. You also might have limited networking opportunities with expats and digital nomads since these can be the only people you meet at a local coworking space.
Reduced investor chance meetups- Similarly, since the profile of the average member of such spaces is that of local freelancers and independent workers, the chances of encounters with potential investors or co-founders can be lesser.
Fewer events- If you are looking to attend many events, then local spaces may not be the best fit for you since they conduct fewer events. That's also one if the reasons how they keep their costs down.
Non-standardized processes- Many local coworking spaces are plagued by undefined processes. Onboarding and booking may not be very smooth processes at such spaces since they may be still discovering the nitty-gritties of operating a local coworking space. Many of such spaces might not even be listed online.
Coworker has a great directory of coworking spaces across cities globally. Browse their site here to find a perfect coworking spot for yourself.
Going global? Analysis of global coworking chains like WeWork
Global coworking spaces like WeWork have a few unique advantages over local ones. In this section, we discuss their pros and cons.
Advantages of WeWork:
Networking, events and activities- WeWork focuses a lot on events and strives to build an organic community of 'WeWorkers' who network both inside and outside WeWork offices. They have specially placed emphasis on a networking based approach. There are not just regular events that are inclusive in nature, but also well defined processes that aid networking for its members. Some examples of WeWork facilitating great networking are –
Members can update the entire WeWork community regarding any new business announcements
Job boards are present in which all members can post jobs
Such offering greatly aid networking in finding the right business partners, founders, team members, freelancers and even potential clients and investors.
Expertise at running a space- With a know-how of having successful coworking spaces in several countries globally, WeWork has mastered the dynamics of providing you with the most comfortable yet productive coworking offices. They are already aware of what works and have a smooth onboarding process, a well designed office space, conducting regular events to engage their members, etc.
Smooth processes-By selecting WeWork, there is the assurance of a certain level of service that you can expect at such spaces. There are lesser uncertainties and shocks awaiting you. WeWork ensure that you achieve maximum productivity because of smooth onboarding, established process flows for reducing time waste, etc. There are also seamless transfers if you are a WeWork member and wish to work out of another WeWork location. This also helps in networking with global or international diaspora.
Beautiful offices- Because of having higher budgets, all WeWork locations are beautifully designed with a variety of ergonomically designed seating types that you can select from, to make your working the most comfortable. They also have separate phone booths, conference rooms, meditation areas etc. Many have a variety of healthy food options to choose from for light workday meals.
Great location- Locationally, they are mostly situated in the best of areas in a city where there is good transport connectivity, surrounded by great restaurants to assist in great client meetings and business lunches or dinners.
Meeting right people- Although expensive, by picking places like WeWork, there is a natural filter on members at WeWork. Such people would be at a more mature state of their business and hence better to network with.
Discounts and offers- WeWork also ties up with many online stores and if you are a member, you can get great discounts for various office supplies, productivity tools, laptops, etc.
Here are some disadvantages of WeWork:
Batch processed feel-Global chains like WeWork may have a batch processed feel to their coworking spaces, with no personal interactions between its members and owners.
More expensive- WeWork can be considerably expensive as compared to local coworking spaces. Since it is a global chain, they have higher operating costs as compared to local coworking spaces.
Lack of privacy- If you are availing a hot desk or flexible seating at WeWork, it can sometimes feel like a lack of privacy since the WeWork offices are huge with many members working together.
High growth startups must be able to enjoy all WeWork benefits without worrying about costs. You can now avail upto 15% discount at any WeWork location. Register here.
[sg_popup id="1″ event="onload"][/sg_popup]
Conclusion
In a nutshell, before finalizing a local or global coworking space, understand your profile, phase of your business and need for partnerships and networking. Weigh in your options as per what's most important for your business.
If you are a beginner or just starting out, local spaces may suit your needs more. However, if you are looking for going global fast and extensive networking, then global chains like WeWork may be better for you.
Related Posts