Keeping your passport safe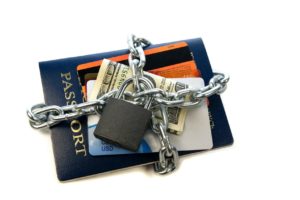 It might seem boring topic, but taking the necessary steps to keep your passport safe when travelling is absolutely essential. Losing it can be one of the most depressing ordeals – replacing it costs a lot of money, you're at risk of identity theft, it completely messes up any plans you might have had until you get a new one, and you're no longer legally entitled to be travelling within a country or out of it.
So, let's discuss some steps and tools to keep your passport safe:
Money belt. If you want to keep your passport secure using a money belt is a must. Money belts provide a much better protection than putting your passport in a backpack or your pocket. The reason is simple, using a money belt guarantees that unless you are being violently robbed, you will not lose your passport. And while you are at it, you can also use the money belt to store your credit cards and cash. The disadvantage of using money belts is that they are not always the most comfortable item, especially in a hot and sweaty day. However, as time passes, they will grow on you.
Always keep it safe. In certain scenarios, you might need or choose to keep your passport safe away from you. When? Going for a swim in the beach comes to mind. Also, if you are staying for a longer term in a place (e.g. one month rental) you will probably want to avoid the inconvenience of a money belt. Only keep your passport in places where you feel it will be totally safe, preferably in a locker (with your own lock). An advantage of not carrying your passport constantly with you is that it'll keep it from getting wrinkled too. However, since you are legally obliged to have your passport with you at all times, I have one rule I follow: If getting to your passport takes more than a few minutes by car, take it with you. Don't be in a situation that you travel to another city without your passport, since a police checkup can get you into trouble and a copy is not always enough.
Have backup copies. Always have copies of the main passport pages, especially if you won't have the passport on you at all times. Have both physical copy you can use on the road, and a digital copy that is accessible with internet, and without internet (As a screenshot on your tablet/Smartphone). A passport copy will be a life saver if you ever lose your passport and need to reissue a new one. Copies are usually valid if you have another identifying document with you such as driving license or a student card.
Use copies and keep eye contact with your passport- Opt to use a copy instead of your passport 

whenever

you can in hostels and transportation agencies even if you have your passport on you, since it prevents your passport from exchanging hands. Avoid leaving your passport with people who ask for it, and if you do, constantly keep eye contact with it, especially if you don't trust them 100% percent. When someone else has your passport, switch your priority and consciousness to getting the passport back as soon as possible. Your passport is worth thousands of Dollars in the market, and it is better to be the geek that stays by the hostel registration office while they take a copy than going to pick it up a few minutes later and discover it is gone.
Good condition. You can run into trouble at borders and crossings when your passport's in a bad condition. That can mean wrinkles or small tears, moisture and damage – anything that might make it look suspicious. Treat your passport well, and protect it with a passport case if you travel for a long period.
Business passport. If you're a long term traveler, you'll get a lot of stamps. Issuing a business passport will get you double the pages and allow you to travel frequently without being forced to change your passport way before it expires due to lack of pages.
Expiration date. Countries won't let you in if your expiration date's coming up, so always make sure your passport is valid. I recommend renewing your passport when it hits the 6 months to expiration period. If you are unlucky enough to renew your passport on the road, make sure in advance that your country has an embassy where you are. As a general rule, guard your passport even better in countries where you don't have an embassy in.
They're quick and obvious tips, but easy enough for anyone to follow and avoid any hassle. Keeping your passport safe will give you piece of mind, and ensure you're travelling on for years to come!
Click below to listen to an audio recording of this article:

Related Posts