How to get clients as a digital nomad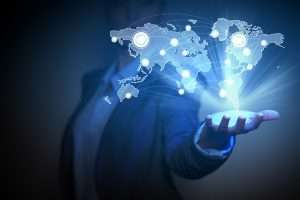 Written by Philipp Steinweber
Earning Dollars and spending Thai Bhat is the ultimate digital nomad's dream. Ok, you can replace "Thai Bhat" with the currency of your dream destination, but you get the point: a western salary gets you very far in lower income countries.
That's one of the reasons why South East Asia is so popular amongst people who are able to choose their location freely. That, and of course culture, food and beaches. The four-hour-work-week suddenly feels a bit more attainable.
I'm a freelancer. Simplified: renting out my skills on an hourly basis. And the #1 question that friends ask me is:
"How the heck do you get clients paying Western rates while living somewhere in the jungle as a digital nomad?"
The short answer is: the Internet.
The long answer is this very post.
The first good client is the most important client
Spoiler alert: For me, referrals are the number one method for getting the best and most awesome clients.
And yep, there is a difference between a good and bad client. Not that people are bad, but there are clients that are not a good fit for your vision. They might have requirements outside of what you like to do, they might communicate in ways that you can't provide while being abroad (3am phone calls anyone?), or they might try to bargain down your rates all the time.
If you start from scratch you'll have to find this out in practice.
But once you get the chance to work with someone who's really awesome: be really awesome. Treat them with extra love. Find out who else they are working with. Become a part of their network. Are they members of any communities or forums?
It's quite likely that they surround themselves with similar people. When you've got one, there are more close to hand.
That's why the first client is an exception to the following "rules". It doesn't matter where you find him. You can even be lucky when going for the obvious. That's fine.
Create your own platform
For many of the following points to work, as a digital nomad, you have to have your own headquarters on the internet.
There's almost no way around having your own website and mailing list.
This includes a certain type of branding. For some of you that's obvious (and existing), but I know that for many that's a big step.
Before you make the next steps towards this, make sure to read the following, and most important point of this article.
Find your niche (and help them)
No matter what kind of service you are offering, you'll be able to niche your offer down.
Yes, I'm talking about the "become THE copywriter for plumbers" thing. It's a thing because it works.
It can be more subtle than that. You can not only niche down by working with certain clients only, but you can also niche down by having a certain style (that's what graphic designers typically do) or approach to your work. For the examples provided, I'll stick to the obvious though. Just to make a point.
But niche down!
Why?
It makes finding clients so much easier. Let's stick with the plumbers example – do copywriting for a certain type of business.
(Hint: plumbers is a terrible example, because they are typically location independent brick and mortar businesses. Better replace them with people who prefer email and Skype rather than coffee and croissants meetings.)
Plumbers have certain interests. Around their business for example. They enter certain keywords into Google, like certain Facebook pages and groups, and are part of certain online communities. The places you'll have to hang out at.
Don't hang out there and spam their forums. Instead: be of as much help as you possibly can. Unconditionally. Find out what their problems are, their main desires, and their main questions.
Then: Offer solutions for those problems, desires and questions. Create a blog around those topics. Offer a free ebook or a free case study (in exchange for an email address). And bazinga: you got yourself a sales funnel. Or at least you bring some potential clients to your website and mailing list.
Now all you have to do is try to be even more helpful and start conversations. Once you're some sort of "authority", guess who those people will approach whenever they need the service you're offering…? Indeed!
Don't compete on price
Now that you are specialized in plumber copywriting, chances are, there is not heaps of competition at all (but it's actually good if there is some).
That's where lifestyle design kicks in. You can create your own prices and products, and don't have to adjust them according to your competitors. People trust you, people like you, therefore people will pay you.
And that's the only way of making a proper living. Remember: you want to be able to survive financially in your home country as well. Save some money for retirement and have proper health insurance. So don't lower your standards too much, just because you live in a cheap country. And charge accordingly.
Be in it for the long term
Here's the catch: What I just told you takes some time. You might be able to get one or more clients in the first month of trying. But are them quality clients? Are you up for finding more like him?
Maybe not. So, How to get quality clients online?
Bring some time and patience. Or better: bring stubbornness. And be in it for the long term.
About the author:
Philipp Steinweber is a location independent web consultant offering "soulful" websites, digital products and online marketing (recognize a niche there?). He and his partner in crime are either in Munich/Germany or somewhere else on the planet, helping soulful businesses online. And on top of all that they call themselves Metamonks.
Related Posts