Advantages of Coworking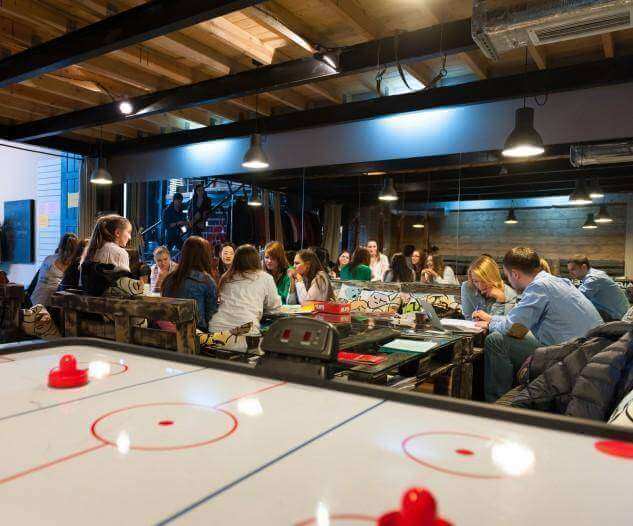 As a freelancer, Startup founder, or digital nomad, you should consider the advantages of coworking when you pick your work environment. Working at home or taking your laptop to a coffee shop can have their challenges, for reasons that we will elaborate in this article, but on the other hand, renting a long-term office space generally results in high costs and lack of flexibility, which most of us would prefer to avoid. That's where coworking comes in! A "coworking space" is a place where you can go on a daily basis, sit down at a random table (or a fixed one, in certain places), and enjoy a good internet connection, coffee, a kitchen, and the company of like-minded people. Altogether, this simulates an office environment without the cohesion of everyone working on the same project. Those spaces are now becoming common around the world (As the Global Coworking spaces map I am working on proves). As strange as it sounds, it might be worthwhile for you to pay for an environment which simulates an office, even though most of us are not big fans of the Nine-to-Five workday. I have used coworking spaces in more than 30 countries since 2011 and consider it a lifesaver. 
It should first be noted that coworking spaces have a few disadvantages and might not be best solution for everyone. This may be especially true for those of you who are happy and productive at home alone, and with high levels of self-discipline. However, most people can benefit greatly from coworking and should at least give it a try, especially since many coworking spaces offer free one-day trials! Without further ado, here are some of the main advantages of coworking:
Separating Work from Home. If you work from home, there's no real accountability. It's too easy to get distracted by your bed, your TV, and fridge and lose valuable time. In addition to that, family related chores will always present themselves since if you are at home, you must be available… The separation of work from home is important for many of us and also allows you to breath some fresh air and feel alive instead of spending most of your day at home.
Enhancing your Effectiveness. Research shows that people who use coworking spaces are more effective due to the energy and mindset adjustment that is generated by the interaction and acountability a coworking environment creates. That means that the financial costs of using a coworking space are much lower than the financial benefits it creates.
Avoid loneliness and get Inspired from Like-Minded People: Working alone is isolating and can affect your mood. Having coworkers and interaction is covering a social need. The idea at a coworking space is that although you are working by yourself, you are surrounded by awesome people. The members of the coworking space have picked a unique and independent lifestyle just like you, and those are exactly the kind of people you want to be surrounded by. Coworking simply makes your day more energizing, fun and happy.
Create an amazing network- Coworking spaces will boost your network and in turn connect you with the most relevant people for your business, from potential clients, suppliers or even business partners. In coworking spaces you are guaranteed to meet high quality, talented, and like minded people to add to your network that might become critical for your business.
Making you Take Yourself (and your Business) Seriously. This one is a little deep, so let's start with an example: It is a common recommendation to work at home with clothes you would wear at the office. Working with flip-flops in your pajamas usually decreases your productivity as you are signaling to yourself that you are not in work mode. Using a coworking space will make you aware of your appearance and clothing, and taking the time to walk/drive to your place in addition to the money you spend on it will remind you that your work is important enough to take it seriously and value your time and skills.
Improving your Social Life: One of the biggest drawbacks of leaving a 9-to-5 job is missing out on the best source of meeting new people, your office. Jobs provide us with a major source of new friends, and once you leave your work this source is depleted. A coworking place allows you to fill in the gaps and make new friends with interesting people in new places.
Reducing Uncertainty: Most of us working remotely will try Finding the Perfect Coffee Shop to Work with a Laptop as a Digital Nomad. This can create some uncertainty and frustration, since you will find yourself running from one coffee shop to another hoping that today it won't be too crowded or loud and that the internet is going to work. In case you have to make calls, the noise in coffee shops can be frustrating to you and the people around you. Coworking spaces usually have isolated Skype booths and conference rooms for you to use. Some other reliable advantages of coworking spaces over coffee shops include access 24 hours a day (in case you are on a deadline or have a crazy schedule), and free printing (always valuable). In general, uncertainty takes time and energy that could have been put toward working for your clients, and it makes you feel less happy in general. Coworking provides your life with stability.
Impressing your Network. Coworking spaces are a great option to conduct important meetings with your clients and associates since they offer conference rooms which are usually free for members. It makes a much better impression to invite people to a coworking room than to your home or a coffee shop and will show how serious and dedicated you are to your trade.
Reducing Costs & Adding Flexibility. In case you have decided that it is time to get an office, a coworking space makes a lot more financial sense than renting your own office. Renting an office includes taking care of installing infrastructure and taking care of utility bills that drain cash and time. The staff in the coworking space will take care of that for everyone. Also, regular office rental requires signing long term contracts, usually for a minimum period of one year. Coworking spaces allow you to rent your Table or even a room for a few days, weeks or a month and allow you to focus on what counts: Your work.
Accessible expert help when needed. Coworking spaces gather the best minds, each expert in their own field. After you dedicate some time to build your social network in the coworking space, you can approach your expert friends for high quality advice on a wide range of topics like social media and digital marketing, programming, design and much more. The synergies and mutual help of one member to another is invaluable.
Helping you Work in Comfort. Free coffee, fridges, microwaves. You often save money in this kind of working environment because unlike a cafe where your small costs add up without you noticing, a coworking space lets you know what you will pay upfront (coworking will probably be cheaper than three Starbucks coffees per day). Coworking spaces usually offer lockers, as well, which gives you another place to store your stuff safely in case you need to go somewhere during the day.
In summary, coworking is a great solution, and will no doubt shape a lot of the future labor market. For many nomads, the advantages of coworking are life-saving in terms of increasing effectiveness and meeting new people.
Related Posts